do your :bit 2022 Registration
Boost your child's DSA portfolio and make a positive impact to our society by joining this Summer's global micro:bit challenge! Participants will design real-world solutions for the United Nations 17 Global Goals using the BBC micro:bit. Register today and start competition preps this March/Easter holiday camps.
COMPETITION THEME
Design creative tech solutions using the Micro:bit for the UN's Global Goals by tackling the issues that we are facing today.
COMPETITION DETAILS
For Ages: 8 to 14 years old
Submission Deadline: 15 July 2022, 12PM
*Further competition details will be emailed to registered participants.
BENEFITS FOR YOUR CHILD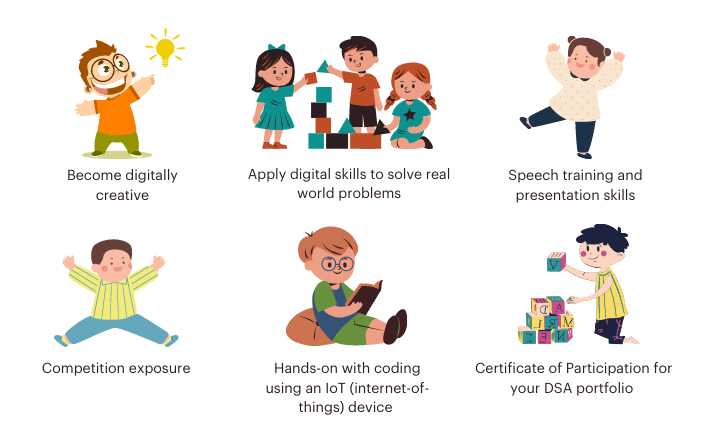 WHAT IS THE MICRO:BIT
The BBC Micro:bit is a small 'computer' that introduces you to how software and hardware work together. When programmed, the features of the Micro:bit allow interaction with you and the world. Find out more by clicking on this video.
PRIZE WINNING COMPETITION TEACHER
Our lead teacher for the competition, teacher Aamuel was part of the team who emerge Champion in IMDA's SG Wonderland Coding Competition in 2019!
COMPETITION PREPARATIONS
Completion of 10 hours in our Science & Micro:bit Holiday Camp this March/April
20 hours of competition prototype build lessons post the camp in May/June
All camps and build lessons can be deducted from our credit packages
Micro:bit and competition required add-ons will be provided during all sessions
*For alternative schedules, do email us at
hello@empirecode.co
.
After your submission, you will receive a confirmation email. If you don't receive the email, please contact us at hello@empirecode.co
*By submitting the form, you agree to our Terms and Conditions